I vårt gemensamma samples-projekt, Samples Of Whisky vi har ihop med whiskyklubben TPWC ifrån Degerfors och som går ut på att vi tillsammans. privat hemma,  provsmakar och betygsätter en hemlig whisky som en utav medlemmarna har inköpt eller bidragit med. Vi avlägger också en gissning på vilken sort vi tror att det är.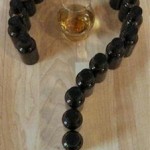 All svars-inlämning sker via Samples Of Whisky-sidan och här presenteras endast en lista över vilka sorter som vi har smakat:
Information angående aktuella provsmakningsdatum, tid för registrering, vem som är bidragare, samplespris osv. kan också hittas här nedan:
Senaste datum för registrering:  Se SoW-sidan
Tid för provsmaknings-intervall: Se SoW-sidan
Pris/sample (á 3 cl): Se SoW-sidan
Vem är bidragare: (klubb) Se SoW-sidan
Ev. nya gästdeltagare som vill vara med på SoW-smakningarn ombedes att först ta kontakt med någon representant ifrån nån av klubbarna, eller via mail för vidare instruktioner.
Då projektet medför viss logistik med samplesflaskor/tomflaskor osv. är det tyvärr ej säkert att ett "utomstående" önskemål om deltagande kan tillgod0oses. Men hör gärna av dig och fråga om du är intresserad! ;)
Lista med länkar över smakade whiskysorter (blindprov):
#10 – Kavalan Consertmaster Port Cask, 40% (sow) – FAN, AWC
#09 –Glen Moray 16 (sow) – Roger, TPWC
#08 – Glengoyne 14 German Oak Wood  (sow) – HHG. AWC
#07 – Ledaig 10 (sow) – AND, TPWC
#06 – Springbank CV (sow) – HHM. AWC
#05 – Glengoyne 17 (sow) – TON, TPWC
#04 – Glenmorangie Nectar d ´Or Sauternes (sow) – CPE, AWC
#03 – Hakushu 12 (sow) – MAT, TPWC
#02 – Machrie Moor First Edition (sow) – FAN, AWC
#01 – Talisker 57° North (sow) – MSU, TPWC