feb 2, 2015 -
2015, AWC, Event #17

0 Kommentarer
Så börjar då äntligen planeringen och slutjusteringarna falla på plats inför en ny kommande omgång (nr. 17) i AWC's snart 5-åriga historia.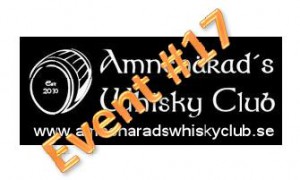 Även vårt tänkta startfält, aftonen till ära börjar också så sakteliga att ta form och där deltagarna väljer sina egna bidrag. 
(listan uppdateras fortlöpande)
STARTFÄLT: Event #17 – Fre. 6 feb.
  

(AFR) Bowmore Black Rock, 40% 379 kr

SMAK: "Lätt rökig med en härlig söt blandning av frukt. sherry, päron och vanilj med lätta lädernoter" 

  

(FAN) Bunnahabhain Toiteach, 46%

SMAK: "Maltig, tydligt rökig smak med fatkaraktär, inslag av ljunghonung, ostronskal, halm, vanilj, jod och citrus"

  

 (HGU) Ben Nevis, Sherry 11 y.o

SMAK: "Den tredje buteljeringen från Tunnklappningssällskapet och där ett saftigt och gott sherryfat denna gång har fått ge den maltiga whiskyn från Ben Nevis en underbart bärig ton"

  

(HHG) Laphroaig Tripple Wood, 48%

SMAK: "With no water, a large initial burst of peat belies the slight lack on the nose but is gentled on the tongue by the creamier flavours of vanilla and fruit with just a suggestion of sherry sweetness"

 

(HHM) Aberlour 15 Double Matured, 40%

SMAK: "Balance of sweet sherry nuttiness, orange and toffee. Smoky sndertones. A wonderful velvety texture all rounded and thick"

 

(AWC) Amrut Oloroso Sherry, 56,5% SWF-19

INFO: "En vatting av tre fat som slutlagrats på PX fat"

 

(AWC) Jura Prophecy, 46% *Bonuswhisky*

SMAK: "Smoky and dry, a muscular, powerful Jura with notes of nutmeg, cardamom, sea spray and some coal tar"

 
 (AWC) Blindprov, 55%

SMAK: "En gräslig whisky…"
Vill du säga nått? Lämna gärna en kommentar!