okt 2, 2017 -
2017, AWC, Samples Of Whisky

0 Kommentarer
En av de två whiskys som ingick och provsmakades i AWC-boxen "BATTLE OF THE ISLES" – Gotland Vs. Islay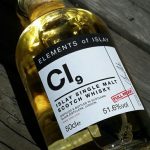 Region: Islay
Styrka: 51,6 %
Pris: 498 kr (50 cl)
Event: SoW Värd: AWC
Provdatum: 171002
Bidragare: AWC
Medelpoäng: 16,75 av 20,00 p Se skala
| | | | | | |
| --- | --- | --- | --- | --- | --- |
| AFR | CPE | FAN | HGU | HHG | HHM |
| – | – | 17,25 | 18,00 | – | – |
| UJA | ACA | RLÖ | – | – | – |
| 14,00 | 16,50 | 18,00 | – | – | – |
Våra samlade omdömen/kommentarer:

ACA
SORT;Cl9
DOFT: (4,00 p) text
SMAK: (4,00 p) text
ESMAK: (4,00 p) text
HELHET: (4,50 p) text
Ev. kommentar: ?Mycket god. Kan mycket väi bli årets Jul-whisky.
TOTALPOÄNG: 16,50
HGU
SORT: c9
DOFT: gummi,rök.grillkol 4,5
SMAK:lite sötrökig,bra drag4,5
ESMAK: sitter väl inte kvar så länge men ack så god. 4,5
HELHET:en riktig vinterwhisky 4,5
Ev. kommentar: ?
TOTALPOÄNG: 18,00
RLÖ
sort: CI9
doft: väldigt ungt och rått, rökt korn
smak: sötrökiga och salta toner med lite gummiinslag
esmak: ganska kort men det hänger kvar lite rök på tungan en stund
helhet: helt enkelt en god whisky att njuta av framför brasan en kylig höstkväll.
TOTALPOÄNG: 18,00p
FAN
SORT: Elements of Islay Cl9 51,6%
DOFT: 4.50 Torraskig rökighet med tjärstick och PCB-inslag och en hel del svavel. Yummy!! Här ligger inte heller havsviken långt borta och där man kan ana lite av sältan och torkade hamparep. Ganska ljus maltighet där även vitpeppar finns.
SMAK: 4.25 Det börjar ju så bra men tar slut så fort… De första inledande sekunderna är magiskt bra och har en fyllig och #pheno_l_menal smak men som sedan störtdyker ganska fort och blir lite "tunn". Här finns riktigt goda smaker av svavel, bildäck och utbrunnen brasa i en härlig harmoni men där den efterlängtade skjutsen ifrån strupdjupet uteblir lite grann.
ESMAK: 4.25 Medellångt med vissa kvarhängande röktendenser som består. Liten medföljande vitpepparaktig ton.
HELHET: 4.25 Trots ett något svagare (fatta mig rätt, den är ändå ganska rökig!) parti så är detta ändå en brutalt god rökwhisky som jag gillar. (Lite Port Askaig-stuk över det hela fast här med något mera rökiga inslag) GottGott!!
TOTALPOÄNG: 17,25 av 20.00 p
UJA
SORT: Elements of Islay Cl9
DOFT: –
SMAK: –
ESMAK: –
HELHET: –
Ev. kommentar: –
TOTALPOÄNG: 14.00
Vill du säga nått? Lämna gärna en kommentar!