maj 1, 2013 -
2013, Islay, SMWS, whiskyresa

0 Kommentarer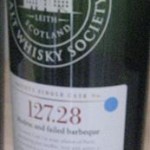 Region: Islay
Port Charlotte 2002, (refill ex-bourbon)
Styrka: 65,1 %
Pris: ? kr
Event: whiskyresa-1 Värd: AWC/TPWC
Provdatum: 130427
Bidragare: Bergslagens Destilleri
Medelpoäng: 18,00 av 20,00 p Se skala
| | | | | | |
| --- | --- | --- | --- | --- | --- |
| AFR | CPE | FAN | HGU | HHG | HHM |
| – | 18,00 | 18,00 | – | – | – |
Våra samlade omdömen/kommentarer:

NOTERING: Underbar smak av citrus, tobak, sötma, grillkorv, söt

Official notes: Creosote, Coal Tar soup, plaster of Paris, smouldering pine needles. And with water, a fire drowned by a down-pour. Very sweet, very smoky, with chillies at full strength and burnt sugar with water'.
Vill du säga nått? Lämna gärna en kommentar!