SMWS 25.63 "Poire et poivre"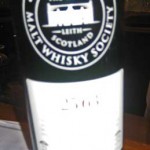 Region: Lowland
Rosebank 21 (refill hogshead)
Styrka: 59,8 %
Pris: 953 kr
Event: whiskyresa-1 Värd: AWC/TPWC
Provdatum: 130427
Bidragare: Bergslagens Destilleri
Medelpoäng: 17,00 av 20,00 p Se skala
| | | | | | |
| --- | --- | --- | --- | --- | --- |
| AFR | CPE | FAN | HGU | HHG | HHM |
| – | 17,50 | 16,50 | – | – | – |
Våra samlade omdömen/kommentarer:

NOTERING: Inslag av kanel tillsammans med lite krydda och citrus.

Official notes: "The nose suggested fermenting beer – still life on the lid of a washback –green apples, a pear, a peach, somelemon puffs, a stone bowl containing sweet pipe tobacco and a bunch of fresh spring flowers. Pears again on the palate (riper now), also some fizzy fruit (sherbet lemons), more flowers (this time from high summer) and definite peppery spice ('poire et poivre'). The second nosing had mild liquorice (sherbet dib-dabs) tobacco leaf and pear and nettle sorbet. The reduced palate gave light, pleasant flavours of bergamot and floral perfumes; a mild tingly finish. From Falkirk's sadly now defunct distillery.".